3 Best Quiet Drumsticks For Electronic Drums
Posted by

Mike Schumacher

It can be difficult to find the ideal drumsticks for electronic drums. If you're brand-new to drumming this decision may even be harder.
Playing a traditional acoustic set of drums or playing on an electronic drum set does have very obvious distinctions; most notably, the surface you are playing on. Firstly, you want to use drumsticks that feel familiar to what you will use on a standard drum kit.
However, perhaps you have neighbors and your electronic drums still sound too loud and you need to find  some ways to make them sound even quieter.
We've narrowed down some options that will let you play naturally yet reduce the volume of your sticks against the electronic drums.
Vic Firth Universal Drumstick Rubber Tips
This is probably the most logical option if you already have drumsticks. All you need to do is hook the rubber tip on your drum sticks and your sticks become quiet in seconds.
These can fit on nearly all drumsticks and are easy to put on and take off. They are also made with durable rubber that will help with the wear and tear of removing the rubber piece.
The rubber produces is soft enough to make the stick quieter yet hard enough to provide an authentic experience of drumming.
Best option for playing the practice pad at night
Because the tip is covered, these make it perfect for practicing rudiments at night on a practice pad.
I have had endless experience of jamming on a practice pad (and thinking I was being respectful of my roommates), but coming to find out that they were just as annoyed by this and that the volume was still too loud.
These are my preferred method to make my drumsticks quiet since I can use my favorite sticks and just slap these on when I don't want to bother my roommates!
Field Rubber Balanced Drumsticks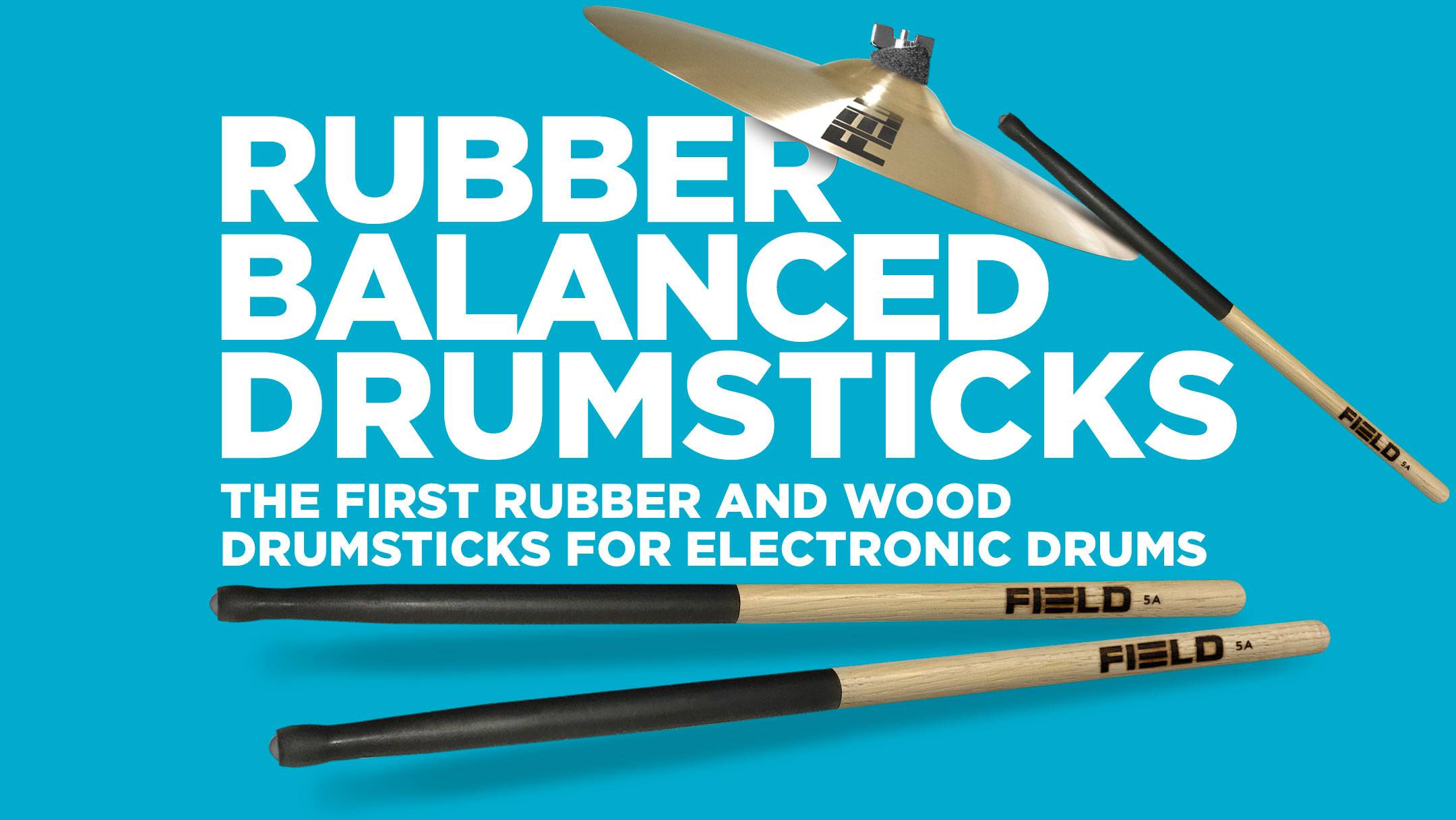 These sticks are absolutely awesome. They've got a wooden handle, they are size 5A (a standard size for drumsticks) and they've got rubber tips so that they are much quieter on the attack. 
The sticks were designed specifically to be played with electronic drums so that they will reduce playing volume.
These also work on acoustic or metal surfaces for those who want to reduce their volume on other applications.
They are lightweight and durable as well, the rubber is made to secure the stick firmly.
Equipped with a long rubber pointer for bigger contact surface area on a drum pad, these sticks make it really easy to articulate your motions and play naturally even though they don't look entirely like a conventional drum sticks.
Best option for an electronic kit
The great benefit that these sticks have is that the entire shoulder of the stick is covered by rubber.
This means that when you are jamming on the hi-hat or the cymbals with the side of the stick, the volume will still be significantly reduced.
These sticks make it feel like you're playing with a conventional set of drumsticks, and you don't have to worry about hitting hard and annoying your neighbors (or the people in your house). 
You can find more info at the field website.
Vic Firth SD6 Swizzle G Maple
It is no secret that I am a huge fan of Vic Firth. And the fact that this is a dual-stick where you get the comfortable weight of a stick and the short tips of the classic American stick, but as an added bonus you get mallet tips on the other side.
All you need to do is flip the stick around and you will be playing with a soft mallet edge.
Granted, these sticks are more for acoustic drums. The benefit is much greater on acoustic drums because you can get a washy crescendo sound out of real cymbals, or getting a boomy soft sound out of the toms.
However, if rubber tips are still too loud you may want to consider these as they will drastically reduce your volume. And once you get that acoustic kit, you will have a lot of fun with these.
Vic Firth Signature Series – Peter Erskine Ride Stick
While we are on the topic of Vic Firth, I'm going to recommend my favorite stick. For me, this stick just has the perfect weight.
They are not too lightweight (i.e. you can get a lot of power out of them very easily), yet they are balanced in a way that makes them very easy to play fast.
With the Vic Firth rubber tips mentioned above, you can have the benefit of using this great stick and keeping it quiet when you need to practicing rudiments on an electronic kit or a practice pad at all hours of the night.
Nylon tip sticks vs wooden tips
You may have seen nylon tip sticks around and asked yourself: what is the deal with those?
The answer is that nylon tips last longer. They have a coating on the tip that allows them to not break down as easily.
Soundwise the nylon tips have a brighter sound while the wooden tips have a darker, softer sound.
However, the negative aspects of the nylon tips for me are that they leave white marks on your cymbals. If you are playing on electronic drums with rubber pads they will also leave marks on those.
Personally, I prefer wooden tips. I do not particularly like the sound of nylon tips combined with the fact that I definitely do not like to mark up my cymbals.
Final thoughts
Let's sum up our conclusions:
Best quiet drumsticks for the practice pad: Vic Firth rubber tips mute the sound of the tip and you can use them on any stick.
Best quiet drumsticks for the electronic drumkit: Field rubber alanced sticks make it so you can hit the drum at an
Best quiet drumsticks for the acoustic/electronic drumkit: Vic Firth SD6 Swizzle G Maple allow you to play quietly on a drumset and also have a different texture for when you play on an acoustic kit.
The Jam Addict team is a revolving door of writers who care about music, its effects on culture, and giving aspiring artists tools and knowledge to be inspired and keep on creating.
If you have any questions or concerns or just want to drop us a line, don't hesitate to contact us! We always appreciate the feedback.