The band is almost ready: your sister plays air guitar and your friend lip syncs. Now, it's time to pull your own weight. You pull out drumsticks your ultra-modern drumsticks to start playing on and everyone's jaw drops. Your drumsticks actually make noise!
Not only are these cool for showing off, they actually let you play all the sounds of a drum set without having to lug a drum set around!
Finally, us drummers can practice drums without a kit!
Let's get into the best brands that make air drumsticks:
These gadgets are a set of motion-sensitive sensing units that you slip onto a set of drumsticks and allow you to play a virtual drum set anywhere you like. In my research, these have been my favorite air drum I've come across, namely because it lets you use your own sticks.
You also get sensors for your feet so you can play kick drum and hi-hat patterns. Each unit is connected by means of Bluetooth to your phone where you connect it to an app.
These are maybe a bit expensive for some, but DEFINITELY less than an actual drum kit, and furthermore less expensive than most of the other air drum competitors on this list.
So without further ado here are…
4 Air Drumsticks You Can Play Anywhere!
These ingenious electronic sticks represent a substantial advance in the field of pretending to play the drums, as you don't require an accompanying drum set to start knocking out a few cool beats.
The best thing about these sticks is that they actually look like wooden drum sticks, unlike some competitors.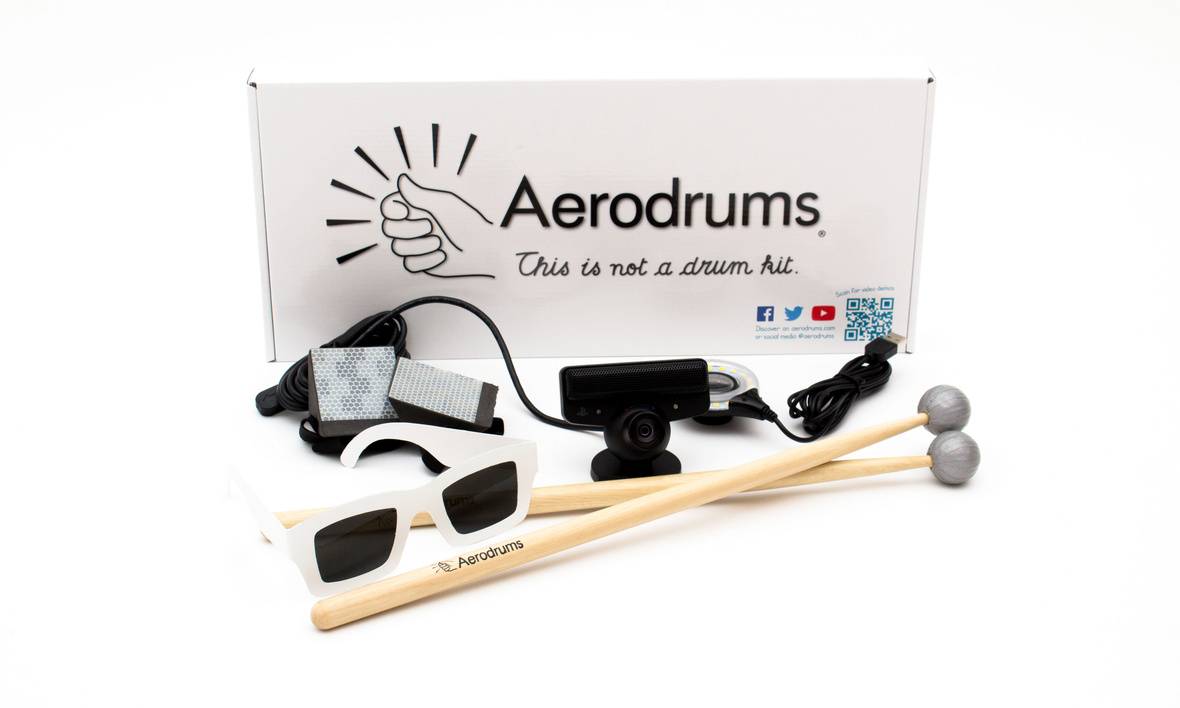 These sticks are both similar and unlike physical drums to play. They do appear to have been designed by a drummer, so they try to keep the aesthetics of using wooden sticks and they keep the layout of a traditional drumkit. I love the design, since playing on wooden sticks is a million times better than plastic ones.
Latency is a huge issue you must be careful with cheaper electronic drum sticks, however with these I haven't found any delay issues.
When my friends take a look at me playing these drums its almost unreal to them. The sounds are great but it is almost like an optical illusion to not see any drums being played.
V-Beat Drumsticks
Sea Fuzz new album alert!🚨
Hazy psychedelic beach rock band, Sea Fuzz is about to release their new album. Check out their new video below.

Have a blast rocking out with your fellow musicians with the V-Beat Drumsticks. This gear allows you to play the drums by pounding away at imaginary drums.
V-Beat lets you make percussion sounds of a real drum kit without having to haul around bulky gear or invest large sums of money in cymbals or drums—plus you can give your neighbors a break.
The sticks utilize movement detection units to identify how you are hitting the space in front of you.
There is a chart that you can use to understand where you should aim your stick. As you aim, you can target your stick to hit a wide variety of instruments that you would use on a drum kit, namely the snare, kick drum, crash, hi-hat, ride and low and high toms.
To hit all of these targets correctly requires some practice, but once you get it you'll have a full drum kit to jam on right in front of you.
Apart from being able to play the drums freely, it uses two other modes: Easy Go (which prompts you to jam with pre-programmed rhythms) and Pop Academy (an assisted step-by-step knowing).
It needs four AA batteries to run and appears to have virtual sound modes (that alters the noise of the pieces).
By the way, you can also plug in an MP3 player into the package, in case you desire to keep the beat to all your favorite rock songs.
Mi Jam Pro Air Drummer (these drumsticks light up!)
Apart from the plastic-y sort of look these really do sound like a real drum set. Also, the latency is great, and the sticks are very responsive.
You can also plug it into iPods and then plug our headphones to each unit which allows you to play along to all your favorite bands.
These work by motion sensors as well as buttons that alter the sound from snare drum to tom-tom to crash cymbal.
They require a bit of practice to play complicated patterns but simple beats are very intuitive. Much better still, the sticks come with cool bright LEDs meaning you can play in the dark.
It's also extremely portable! It is small enough to be easily carried in a little bag.
There is a great feature called 'Follow' which lets you play the same sound on both sticks. Now you can do a drum roll wail into the toms.
There is a learning rhythms device that is built in so you can learn different beats, which is excellent if you are new to drums. They allow you to slow down the tempo so you can nail the beat you're working on.
Learn drums with or without sticks!
If you end up picking these up or just want to know how you can get started playing drums even without a drum kit check out some of our articles from the Pros at Jam Addict!
Is it Possible to Learn to Play Drums Without a Drum Set?
How to Learn Songs on Drums By Ear 👂
How to Learn Drums at Home (Without Drums)
How to Learn Drums with a Practice Pad 🥁 the ULTIMATE GUIDE
The Jam Addict team is a revolving door of writers who care about music, its effects on culture, and giving aspiring artists tools and knowledge to be inspired and keep on creating.
If you have any questions or concerns or just want to drop us a line, don't hesitate to contact us! We always appreciate the feedback.