Bill Callahan: "My daughter makes me listen to Harry Styles 20 times"
Posted by

Mike Schumacher
'Listening to your voice is like trying to tickle yourself – it doesn't really work' … Bill Callahan. Photograph: Thomas Ato
The American composer takes us on a musical tour of a few days, playing everything from Traxman and local Mexican radio stations in Texas to his son's enjoyment of the Hamster Dance
7.13am on September 15
I listened to Alfalfa perform Darla's song You Are So Beautiful to Me to her on YouTube. Because I was texting my sister and mentioning Darla being on the shortlist for my daughter's name, I was making sure the young girl's name was correct. Not my wife's shortlist, mine! When the music came on, I couldn't help myself. I used to watch the original program when I was younger, and it's very good. I believe my wife enjoyed the remake, but I was too old to see it when it first came out.
Now that I have kids, I get up at 6 a.m. every day. My kid, who is two, is much more receptive to music. My seven-year-old kid just requests that I turn off everything as soon as I turn it on. I tried to get a decent tune to play in his head, but it doesn't work. He simply begins singing the blues pretty instinctively if I play those Mississippi Hill blues songs. It is just fantastic. Hamster Dance is one of the strange chipmunk techno covers that my kid likes, however. In a strange way, I like such things. It has a great deal of energy. And there's something more, which I'm not really sure what it is, but someone sampled and looped a trumpet portion from the Shrek film. About 15 hours of it are available on YouTube. He would attempt to aggravate me by playing it, but I truly like it. For fifteen hours, I could listen to it.
10 hours of Shreksophone – video
8.30am In the studio behind my home, I listened to the vinyl test pressing of my new album, YTI⅃AƎЯ, which has to be authorized before being made. Because we're remodeling our home and renting another one without a stereo, that is now where my lone stereo is located. I greatly prefer listening to music on the stereo than all of this digital technology, but I don't have many options.
Surface noise may be heard near the beginning of sides C and D. A new cut will be required. Excellent, except from that. It may be considered a significant moment. After a record is finished, I sometimes listen to it to approve the master, the cassette and CD testing, and finally the vinyl test pressing. If I can avoid it, it is typically the last time I will listen. Any rational person, including myself, detests hearing their own voices. I don't believe any rational individual would necessarily dislike my music, I mean, their own music. It's like trying to tickle oneself, listening to your voice doesn't actually work on you. I'll be sort of done with the album when I'm done. I'm still curious to see how the songs will change when I perform them live. However, listening back is like always staring at a newborn photo rather than seeing your child grow over time.
10am I finish my final cup of coffee and listen to Kevin Drumm's Mirth Unblurred on Bandcamp. My home, as well as the homes on each side of us, are undergoing renovations. It's a symphony of circular saws. This recording sounds similar, but since it was handled by a master, it is more fuller. Where does the barrier between reality and music or art exist? When does sound turn into art? Since work is being done, the noise in my home is pleasant. But if it's the neighbors, I question if they must use that saw so often.
When I lived in Chicago, Kevin temporarily shared a room with Jim O'Rourke, which is how I got to know him. He shuffled back into his room after I believe he emerged from the kitchen to get coffee. That is how I came to know him. He has probably been doing music for as long as I have. I read much about music. Like a random internet search, I zero in on a certain band or artist and read everything in their library.
Is my Bandcamp profile public? Yes, but it's not public.
1.30pm After lunch, I was listening to a random song on the radio when I heard Descansando by Fuerza Regida. The automobile speakers trembled to the rad brass bass line. In Texas, there are several radio stations playing Mexican music. No jazz station is available. However, there are around five Mexican stations. I like how the music is often somewhat bizarre. Furthermore, no one else truly employs horns in bass lines. A current touch, like some scratching or whatever, will be added to parts of it that sound familiar to items that have appeared in the last 20, 30, or longer. The interaction of the conventional and modern is what makes this intriguing.
1.45pm I turned on Story Book Children by Ernest Ranglin on my radio to listen to a song before heading back to work since I was merely practicing for a tour. I appreciate how he just sings the chorus and leaves out any other vocals; it almost sounds like a sample or dub. You don't need the voice element beyond that. It brought to mind Traxman's cover of Cardi B and Megan Thee Stallion's WAP Juked Out, a song I can't get enough of. The phrase is changed to "work this pussy," but you're not sure whether you're dreaming when you hear that ambiguity. It has been simplified to the point that it is quicker than the original. On Bandcamp, I had to listen one more. If there is no other music, I am nothing. I sometimes wish I could create myself out of thin air, but I need other songs in order to do so.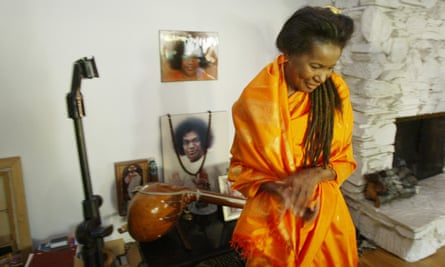 Alice Coltrane. Photograph: J Emilio Flores/Corbis/Getty Images
16.9. at 8.20 A.M. As I was on my way to the studio, Govinda Jai Jai by Alice Coltrane played on the radio. I'm still not feeling Alice Coltrane. I am aware that my comment is sacrilegious. I think she will at some point. I just thought the song sounded like an activity. I like the race than the workout. It's okay if I come to chew on these words. I'm going to keep trying, especially with someone like her who seems to be perfectly up my alley.
8.45am As I was driving to therapy, I turned on Kevin Drumm's Part One from the PCM 4 album on Bandcamp since I felt like I had nothing to speak about this week. His writing is often quite contemplative, so I reasoned that it may help me come up with conversation topics. This music felt just like a barely audible smear on the lens I'm listening through. Hell, in the first two minutes I'll probably be crying in my therapist's arms.
9.30 am on September 17 As It Was by Harry Styles is what I listen to when dancing with my girlfriend. I frequently play this song 20 or more times in a row since she always asks, "more!" after the song is ended. And it endures. My youngster began making requests for it. My kid completely became enamored with it when we started playing it. This kind of language and lyrics are quite ambiguous; they don't truly imply anything specific. You never really get tired of it because it is sort of gauzy. You may not want him to perform that song again, but when he does, you find yourself saying, "Yeah, that's good."
Harry Styles: As It Was – video
On my wife's Spotify account, this was playing. I do not own one. For me, that kind of listening is not nourishing. For me, with a streaming service like that, finishing one whole song without selecting another is a significant accomplishment. It doesn't help me develop strong listening skills. Some individuals may be able to listen to the whole album, but I can't help but choose various tracks by clicking on those cheerful tiny buttons. I don't find it to be a fulfilling method to listen to music.
Otherwise, the weekend was jam-packed with both children's and adult gatherings. Not much time was available for listening to music.
17.30 on September I haven't had much time to listen to music lately since I've been preparing for a gig at the end of the week. Additionally, the home where we are living does not have a proper stereo, so I am mostly limited to digital media. I started playing Garden of Souls by Ornette Coleman from Bandcamp. Because Ornette always has so much life and growth in his horn, this tune has a garden-like quality to it. Jazz annoys my family, so I feel as if I must turn it off halfway through. at least the kind I listen to. No matter what, my kid always says, "Turn it off," until it's Hamster Dance. I now prefer to listen in privacy.
8.30pm I play Celestine Ukwu's No Condition is Permanent on Bandcamp as my kid and I create his cardboard and construction paper wild west town. It resembles African highlife music in several ways. It makes that joyful, effervescent sound that no one can dislike, similar to drinking sparkling water. My kid made no mention of it. He concentrates on his tasks.
YTI⅃AƎЯ is released by Drag City on 14 October
Thanks to Laura Snapes at The Guardian whose reporting provided the original basis for this story.
The Jam Addict team is a revolving door of writers who care about music, its effects on culture, and giving aspiring artists tools and knowledge to be inspired and keep on creating.
If you have any questions or concerns or just want to drop us a line, don't hesitate to contact us! We always appreciate the feedback.