Bon Iver review: exciting, amazing communal experience
Posted by

Mike Schumacher
Otherworldly electric storm …Bon Iver at Leeds First Direct Arena. Photograph: Claire Powell
First Direct Arena, Leeds
Screams of joy are heard throughout Justin Vernon's exquisite falsetto and powerful renditions of songs from "i,i" during an extremely close-knit stadium performance
Since moving to a Wisconsin log cabin to record his profoundly contemplative alt-folk debut as Bon Iver, For Emma, Forever Ago, in 2007, Justin Vernon has come a long way. Since then, his music has evolved into hip-hop production and electronic orchestration, including Grammy awards, number-one albums, and collaborations with Taylor Swift, James Blake, and Kanye West. I,i in 2019 included a choir, no fewer than 39 extra musicians, and a seven-piece band. Importantly, the songs from Bon Iver can still stand on their own with only vocal and guitar. The 41-year-old, however, has shunned the tired singer-songwriter stereotype in favor of exciting new forms. At tonight's concert at Leeds' First Direct Arena, there will be enough of that, with a variety of noises ranging from percussion that sounds like a pressure cooker venting to robotic voice effects. The subtle beauty of the songs is never diminished by this, and for an arena performance – one that Covid has been delaying for a while – it seems surprisingly close-knit.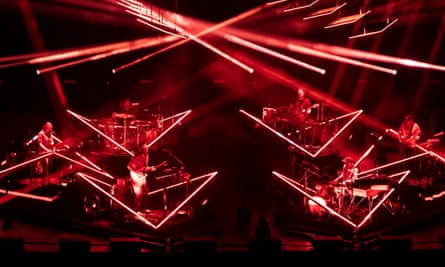 Simply but wonderfully staged … Bon Iver at Leeds First Direct Arena. Photograph: Claire Powell
It is staged simply yet beautifully. The six musicians are enclosed in glowing geometric designs that change color to match the music. An additional set of shimmering geometric forms appear at one point, framing the audience in a stunning fall light and virtually including them into the performance. They observe with a solemnity like to that of a churchgoer, which gradually gives way to exuberant applauding and yelling. Vernon delivers nine songs from i,i, one of his most difficult albums, in contrast to most stadium artists who jam their sets with of singles. Live, the songs are more powerful thanks to the ferocious drumming of Matt McCaughan and longtime keyboard percussionist Sean Carey, yet they also seem more delicate. In the midst of the unearthly electric maelstrom, Vernon's exquisite falsetto and harmonies with Carey or guitarist Jenn Wasner give human sensitivity. There are sometimes old favorites. Screams of glee are heard when Stacks is played acoustically and the mesmerizing works of Flume and Holocene.
Vernon has battled with fame and losing his identity, but he claims that the lockdown gave him time to think, and he now seems to embrace having such a dedicated and passionate following. All along, he expresses thanks and almost shadow boxes with joy during an exhilarating Even manages to say "Hey, Ma" with a Yorkshire accent. He beams, "I love you too, luv!" It's wonderful that everyone says "luv" here.
By the time the band switches to electronic modern jazz, the performance has already lasted more than 100 minutes and has transformed into a really magnificent community experience. On the other hand, Blood Bank's first encore rocked like Neil Young and Crazy Horse, of all things. As they go, Vernon smiles, "Spread the love," and you wonder what his restless muse may have in store for him next.
Till October 26, Bon Iver is on tour in the UK.
Thanks to Dave Simpson at The Guardian whose reporting provided the original basis for this story. 
The Jam Addict team is a revolving door of writers who care about music, its effects on culture, and giving aspiring artists tools and knowledge to be inspired and keep on creating.
If you have any questions or concerns or just want to drop us a line, don't hesitate to contact us! We always appreciate the feedback.