Learn the Basic Guitar Chords with A SONG!
Posted by 

Ben Heckler
In this lesson, we want to specifically show you basic guitar chords that you can apply to a song.
So get out your guitar and start strumming along to these beautiful tunes and watch your sweetie's heart melt!
We have chord charts and pictures so that even novice guitar players can find these to be easy and enjoyable.
A solid structure of chords is important for you to fulfill your potential as a guitar player, but it is equally as important to have fun while your at it!
In this article, we are going to go through some essential chords on the guitar and apply them to a song. We will learn the chords in the order that they appear in the song.
Color Away the Country Blues: Unwind with the Ultimate Country Music Star Coloring Book!
Discover a creative escape with our Country Music Star Coloring Book! Featuring 20+ beautifully designed illustrations of your favorite iconic artists, this printable PDF offers endless hours of relaxation and fun. Perfect for unwinding and rekindling your love for country music!
In many of our other lessons we also cover basic guitar chords to learn songs such as:
Let's get to it!
In this tutorial, we are going to take the classic song Three Little Birds by Bob Marley. Take a listen to it below before we go on, we are sure you know it.
This classic only has three chords so it will be easy to remember wherever you go—whether you are taking your acoustic guitar to the beach or playing around the bonfire to your friends.
Let's learn the A major chord! This is the first chord that appears in the song. It is used when he starts to sing: "don't worry, about a thing…"
A major chord
Below we have a chord chart that tells us which finger to put on where.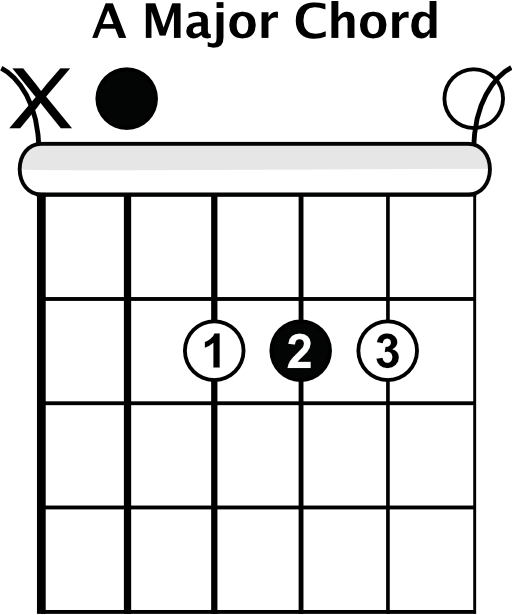 The numbers 1, 2 and 2, correspond to different fingers starting with the index finger. So here is a list of the finger numbers:
1 – is the index finger
2 – is the middle finger
3 – is the ring finger
4 – is the pinky finger
So place all your fingers on these notes and strum down starting with the A string (the A string is the second lowest string).
D major chord
Next, we are going to learn the second chord of the song, D major. This comes at the part where he sings…
"…cause every little thing is going to be alright"
The chord looks like this: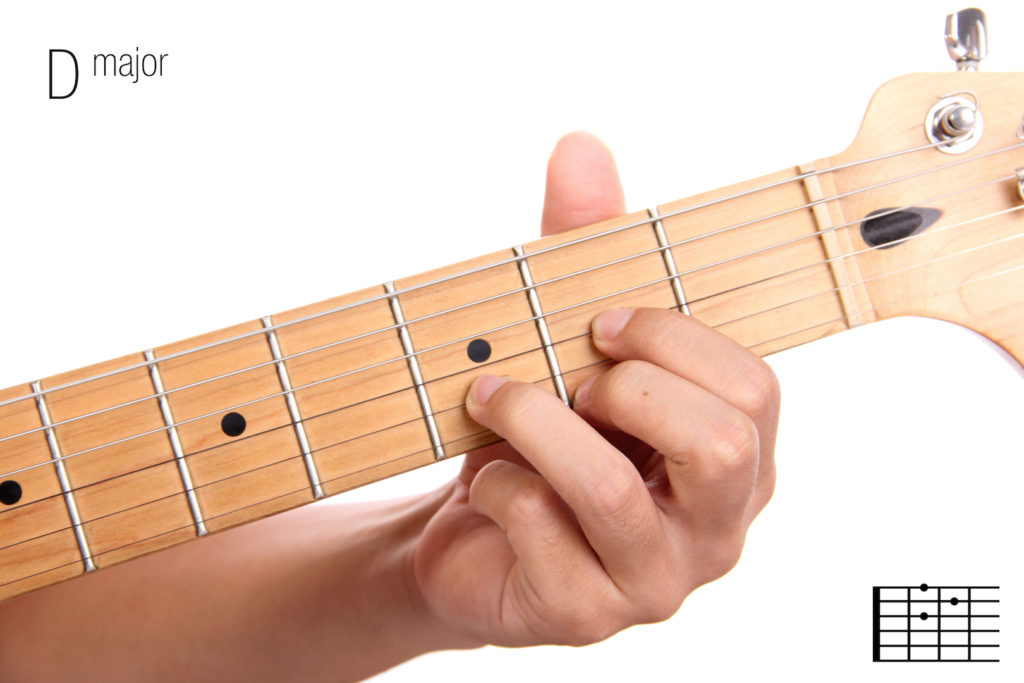 Check out the chord chart to make sure your finger placement is correct. With this chord we don't want to strum all of the strings. We only want to strum from the D string (the 3rd string down from the lowest sounding string).
That is why there are Xs on the first two strings. They are not part of the chord and therefore we only strum from the third-string down.
Switching between chords
So at this point in the song they switch back to A major, for the next lyrics, which are:
"singin' don't worry, about a thing"
Therefore let's practice switching back between these two chords. Forming the chord on its own may not be terribly challenging for you, but switching between chords in the correct moment is something we guitarists definitely need to get accustomed to.
E major
Okay, let's move on to the final chord of the song, E major. This is during the part where he sings,
"smile with the rising sun" and "of melodies pure and true"
Follow along with the picture below: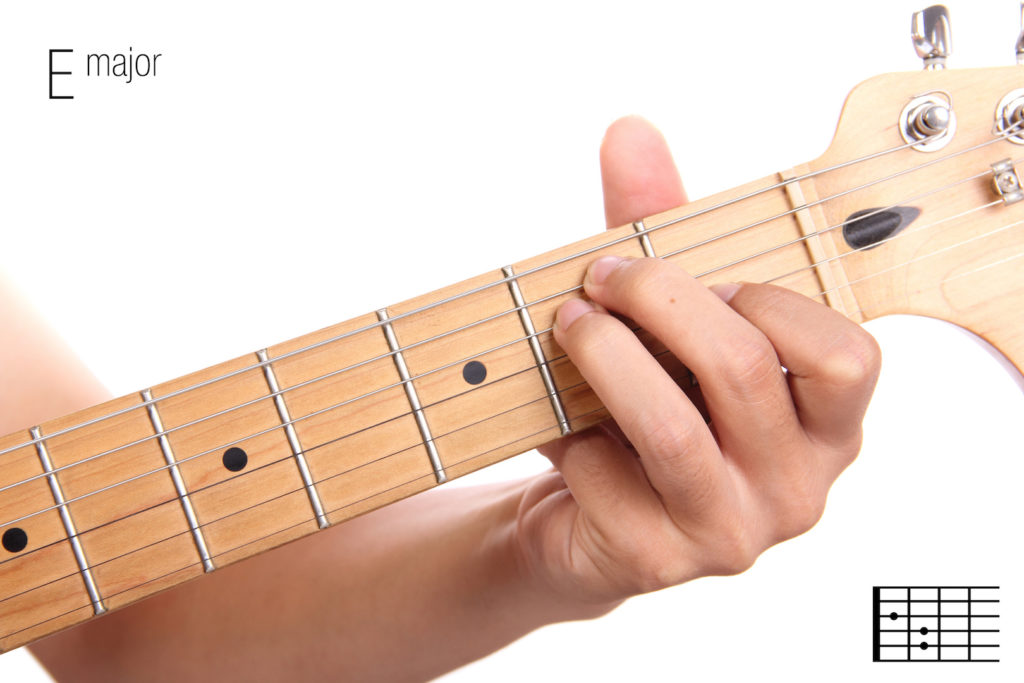 And then make sure you are using the correct fingers by checking with this chart. For this chord you will strum all of the strings. Starting with the low E string all the way up to the high E string/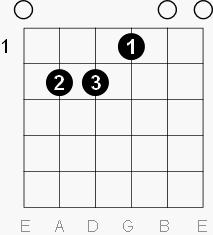 Now let's put all the chords together and try to sing the song. Go ahead and take another listen to the song (I've posted it below again), and use this chord chart to help you follow along and know where to change.
Learning other songs with the A D and E
So now that you've learned the chords A major, D major and E major let's look for other songs that you can play without learning any new chords!
There are already many songs you can learn with just these three chords, and many more if you learn a couple more basic chords!
Wild Thing – The Troggs
This classic is easy to jam along to, and the good news is just about everyone knows the chorus and can help you sing along!
Take a listen to the song below.
Now grab your guitar and with those same three chords try to follow along with the sheet music below.
If this is still difficult for you, try singing through the melody and playing the chords on your own—very slowly.
Once you feel you can change through the chords at a moderate pace, challenge yourself to play to the original song while you play along with your guitar.
Spirit in the Sky – Norman Greenbaum
Although this may have just been a one-hit-wonder for Greenbaum, John Lennon admitted to admiring this song stating that he "always liked simple rock and nothing else."
(note: you can ignore the slash chords for the moment and just play D)
Second-hand news – Fleetwood Mac
Play along to the classic album Rumors by Fleetwood Mac with just the three chords you've already learned!
Check out the song below and then use the chord chart to play the song on your own, with or without the music.
Final thoughts
If you feel like you've mastered these three chords check out our other tutorials on how to play basic chords (they also include songs to play with the chords!)
Guide to Basic Guitar Chords (with Pictures of Finger Placement)
Basic Guitar Chords with their Finger Placement
Ben Heckler is a multi-instrumentalist and musician from Portland, Oregon. Currently Ben lives in Barcelona where he teaches drum lessons, writes and records original music for his band Sea Fuzz as well as playing drums for one of the biggest Beatles tribute bands in Europe, The Flaming Shakers.
Ben is constantly creating and composing various types of music, video, and artwork for a multitude of projects that come his way. He hopes to use his platforms to share, help and inspire others to create in their own ways.