Megan Thee Stallion, Coldplay, and Future join US court petition against rap lyrics as criminal evidence
Posted by

Mike Schumacher
Megan Thee Stallion at Reading festival in 2022. Photograph: Scott Garfitt/Invision/AP
The open letter from Warner Music, Art on Trial: Protect Black Art, also has Alicia Keys, 50 Cent, and Post Malone as signatories
A group of musicians and leaders in the music business, including Megan Thee Stallion, Coldplay, and Future, are advocating for limitations on the use of rap lyrics as evidence in US courts.
Post Malone, Alicia Keys, and 50 Cent are among the artists who have signed a new open letter titled Art on Trial: Protect Black Art. Also signing are the three big record labels, Warner, Sony, and Universal, as well as businesses like Spotify, TikTok, and YouTube Music.
In the letter, written by Warner and published on November 1 in the New York Times and the Atlanta Journal-Constitution, prosecutors are urged to stop using "racially targeted" rap evidence in court proceedings, and state and federal legislators are urged to restrict how such evidence can be used against defendants.
Prosecutors are increasingly utilizing artists' artistic expression against them in courtrooms throughout America, which is troublingly common. Rappers are storytellers that build whole universes full of fascinating characters that can play both the hero and the evil. Rap lyrics, however, are effectively being utilized as confessions in an effort to criminalize Black innovation and artistry more than any other kind of art.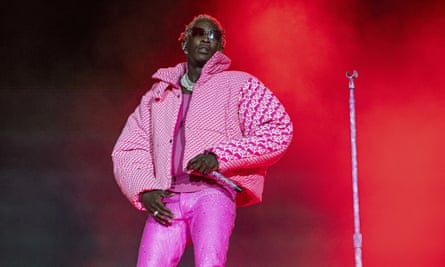 Young Thug at the 2021 Lollapalooza festival. Photograph: Amy Harris/Invision/AP
The letter makes reference to accusations made against Young Thug (real name Jeffery Lamar Williams) and other employees of his record company, Young Stoner Life. The rapper's lyrics were included in an indictment in May for possible gang affiliation and other crimes since they were said to be "an overt act in support of this conspiracy." Label colleague Gunna's lyrics were cited for the same offense.
Both performers are still in custody pending their trials after entering not guilty pleas. If freed, they may intimidate witnesses, the prosecution has warned.
The letter continues, "The use of lyrics against artists in this way is un-American and simply wrong," citing the "obvious disregard" for free speech and the right to express one's ideas that are guaranteed by the first amendment as well as the potential to further stigmatize marginalized groups and their narratives.
2 Chainz, Christina Aguilera, Travis Scott, John Legend, Killer Mike, and Mary J. Blige are other signatories.
In January, musicians like Jay-Z, Kelly Rowland, and Meek Mill advocated against the use of rap lyrics as evidence in court cases.
State senators Brad Hoylman and Jamaal Bailey originally introduced the modification to the law in New York state in November of last year. They aimed to prevent prosecutors from employing the tactic unless there was "clear and persuasive evidence" of a connection between lyrics and a crime.
Gavin Newsom, the former governor of California, already restricted the practice.
Similar controversy surrounds the use of rap lyrics in court in the UK. Unknown T, a drill rapper, was charged with murder; the prosecution tried to utilize his lyrics as evidence; the court denied this, and in 2020, the rapper was found not guilty. Digga D, a drill rapper with nine Top 40 songs, was issued a criminal behavior order in 2018 that forbids him from utilizing certain names, places, and topics in his rhymes.
Thanks to Safi Bugel at The Guardian whose reporting provided the original basis for this story. 
The Jam Addict team is a revolving door of writers who care about music, its effects on culture, and giving aspiring artists tools and knowledge to be inspired and keep on creating.
If you have any questions or concerns or just want to drop us a line, don't hesitate to contact us! We always appreciate the feedback.