Nobody will help us; we'll do everything ourselves. Despite the odds, Newcastle's vibrant DIY music scene is thriving
Posted by

Mike Schumacher
Left to right: Kenosist, Mariam Rezaei, Me Lost Me, Geoff Kirkwood and Late Girl. Composite: Guardian Design; Fairlight Photography; Michelle Allen; Anya Clayton
Although funding is running out and venues are shutting, the underground music scene in the north-east is booming, with everything from pagan folk to deep techno to raw noise
A 40-minute recording of melancholy space dub is being listened to by a tiny but very engaged crowd on a Saturday night in the heart of Newcastle upon Tyne as it provides the soundtrack to a century-long montage of the region's shipyards, estates, dancehalls, and cafés. It is followed by an hour of lovely live ambient music by the Newcastle-based duo Golden Shields, followed by a terrifyingly intense show by the Spanish singer-producer Laura "Late Girl" Stutter Garca, whose music simultaneously conjures Björk, early grime, and minimalist composition.
We are at the World Headquarters, a location within the Curtis Mayfield House, where every wall is plastered with images of Black activists and musicians, anti-racist and anarchist writings, and the injunction to "love one another." Geoff Kirkwood, as left-field dance DJ-producer Man Power, who is also the head of WHQ's community involvement program and the label and promoters Me Me Me, organized the event. Along with accompanying American ambient pioneer William Basinski, he also performed the opening performance under the pseudonym Bed Wetter as a practice for an upcoming Royal Northern Sinfonia orchestral rendition at the area's massive Sage Gateshead later this month.
Tonight is the creation of an experimental music scene that fizzes with originality and local pride and includes everything from the savage loudness of Kenosist to the pagan electronic folk of Me Lost Me. Despite significant obstacles, the scene is enduring. The Old Police House (TOPH), a radical art and community center, has shuttered its doors after nine years of operation due to Covid lockdowns. After nine years of prior successful applications, the equally exploratory and internationalist Tusk festival recently failed to secure additional Arts Council funding, ostensibly due to increased competition. The festival has featured international underground mainstays such as Moor Mother and Terry Riley.
However, there are several DIY spaces and collectives. Since the 2000s, volunteers have operated the Star and Shadow movie theater and event venue (which has held early Tusk festivals) according to non-hierarchical principles. Between a BMX social center and a folk bar, Cobalt Studios is a concert venue, club, print shop, and café with workspace for rent amid a confusing building and shipping containers. (The café often welcomes clog dancers, according to Cobalt's creator Kate Hodgkinson.) The Lubber Fiend, a new addition co-founded by Stephen "Bish" Bishop of the independent electronica label Opal Tapes, is a non-profit music venue, bar, workshop, and radio studio.
A feeling of being unjustly isolated is a major driving force behind this. A number of administrations have ignored and closed off the north-east, claims Kirkwood. There was a strong feeling that, "OK, nobody's going to do anything for us – fuck it, we'll do it ourselves," especially after Covid. In his account of visiting acts, Hodgkinson writes that the performers arrived "not expecting much, thinking of this end-of-the-line ex-shipbuilding and coal, stag-and-hen-do place that doesn't afford cool spaces." Her goal is to embrace them and give them an audience so they may see that they are wrong.
Projects, workshops, and performances go on every day. Tusk is starting again with a brand-new concert series. Kirkwood is introducing a concept for low-cost workplaces for people in poor North Shields, which stands in sharp contrast to the nearby oyster bars and artisan markets of the picturesque and unmistakably developing Tynemouth.
And efforts are being made to preserve the untold but crucial history. N-Aut (No-Audience Underground Tapes), which is administered by David Howcroft, who is said to have been the basis for Ravey Davey Gravey of Newcastle's Viz comic, distributes free cassettes of previous performances from venues like TOPH. The Kick, the Snare, the Hat and a Clap, a melancholy new documentary by Susie Davis, looks back on the outdoor parties of the Ouseburn Valley in the 1990s, while Tusk TV's bewildering YouTube channel records enormous swaths of underground culture.
Kirkwood will perform a brand-new piece with Fiona Brice at Sage after the Bed Wetter orchestration. It will be played at the church where his grandparents were married 70 years ago, in part by a choir of dementia sufferers that includes his grandfather, who reared him. Naturally, the project is about the past, but it's also about creating an artistic future and drawing attention to a region that, in Kirkwood's words, "isn't just some outpost away from what's happening, but has culture all its own."
It is challenging to be inclusive in a mostly white, pro-Brexit neighborhood, but this scene makes an effort. Turntable artist and professor Mariam Rezaei co-founded TOPH with noise musicians Adam Denton and Mark "Kenosist" Wardlaw, and she now programs Tusk with inventor Lee Etherington. She attributes the noise-pop duo Yeah You and avant-garde harpist Rhodri Davies for not only motivating and fostering talent but also offering an alternative social context by incorporating her in performances and collaborations from the turn of the 2000 to the present. She identifies herself as a working-class, brown girl of mixed ethnicity. Making friends was always going to be challenging for me since I had a full-time job while I was in school. I could sense the class divisions, and I'm so glad I got accepted. With expanding commissions and partnerships, her turntablism is now expanding her career internationally.
Behind all of this, there is also a tremendous feeling of untold local history. Since 2011, Etherington has been in charge of Tusk; in the ten years before, he sponsored shows under the name No-Fi alongside Ben Ponton of the local ambient-industrial group Zoviet France, who in turn created a micro-infrastructure for strange music in the area that goes back to 1980. When Etherington mentions the places where No-Fi frequently scheduled events, like the Morden Tower, "a medieval craftsmen's guild built into the old town wall, that hosted Ginsberg, Trocchi, and Bunting in the 60s then all kinds of avant stuff later," he further traces these connections back in time.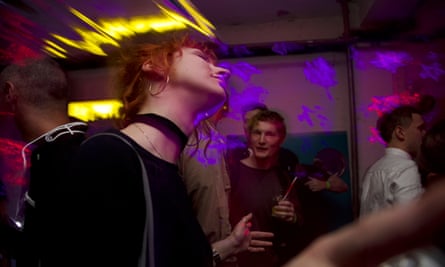 A club night at Cobalt Studios, Newcastle Upon Tyne. Photograph: Michelle Allen
Additionally, club and rave culture serves as an important historical cornerstone. The first mixed-race licensee in the heart of Newcastle, Tommy Caulker, launched World Headquarters in 1993. Before WHQ, Caulker had resisted National Front attacks to manage the Trent House, a city center bar that served as a shelter for outcasts like the Viz founders. One of the first in the UK to play house music, it spun for a homosexual audience during its Rockshots night. Despite having new directors, including Gabriel Day, Kirkwood's creative collaborator, Caulker's determination that WHQ be an anti-discriminatory safe environment is still ingrained in its principles and aesthetic.
The north-east had a thriving underground party scene throughout the 1990s, which included everything from techno tear-ups in valleys and warehouses to, in the words of Suade Bergemann of Golden Shields, "mad parties above a dodgy clothes shop in Whitley Bay where you'd get the weirder and more ambient end of Warp or Ninja Tune-type acts coming up and playing live." People like Coldcut collaborator and turntablist Raj Pannu, who now produces deep techno for Me Me Me, and Steevio, the creator of Freerotation, the small festival that has evolved into a social hub for the UK's millennial electronic music scene, emerged from this scene, which overlapped with the hippy rock world.
Of course, it is hard to discuss the music scene in the northeast without including folk. The culture that produced the art-rocker Richard Dawson, who was signed to Domino Records, as well as more recent off-beam artists like Me Lost Me and the mesmerizing loop-pedal manipulator and vocalist Nathalie Stern, is centered around the Cumberland Arms bar, where those clog dancers congregate. The DIY scene and established regional folk performers like the Unthanks are only somewhat distinct from one another. Even Mark Knopfler has lately been going back to his pub-going origins from decades ago. A city of this small fosters a sense of community that Kirkwood captures in the iconic Viz line, "Sting's dad did me milk." (Ernest Sumner really performed a milk run in the Wallsend neighborhood where Kirkwood was raised.)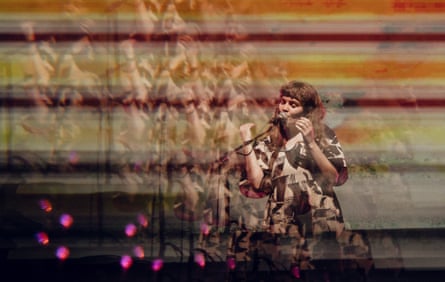 Me Lost Me performing at the Sage, Gateshead. Photograph: Amelia Read
The enormous, gleaming multi-arts theater the Sage is located in the middle of all these subterranean customs. Etherington refers of "money being poured into landmark venues" (Sage, along with places like Gateshead's Baltic Centre, has gotten millions over the years), while independents are shut out. This shows, to put it mildly, that there is ambivalence over its cultural domination. After Sage hosted the 2014 Ukip conference, Rezaei temporarily worked there but resigned shortly after. She declares, "I just can't and won't stand for racism and hate speech." Day, a trustee there, and Late Girl, an artist-in-residence, are among those who are more understanding. When Cobalt first opened its doors in 2004, it created a cultural gravity that encouraged people in the arts like Kate Hodgkinson to "stay and really make stuff happen" rather than "join the rat race" in London.
Therefore, the next Sage event in Kirkwood is an effort to use that venue's large stage to present something distinctively subterranean and north-eastern. We go outside to join the Saturday night drinkers after mixing with the group inside WHQ, which is made up of people of all ages from teenagers to seniors. They share a passionate love for hard-left politics and entrepreneurship as well as a distinct geordie eagerness to get started. Many artists unintentionally echo Kirkwood's line, "Fuck it, we'll do it ourselves."
We disperse to Zerox, a new mixed-LGBTQ+ indie club where youngsters are going crazy to Erasure, Grace Jones, and Talking Heads, along with a swarm of local house DJs, poets, and rag trade hustlers. Although it is quite different from the hypnotic absorption of the WHQ performance, it also challenges the stereotype of the north-east as a monocultural "stag-and-hen-do place." Nobody in this room is taking it easy. Each of these independent musicians and venues faces everyday obstacles.
"It's hard out there," says Rezaei. "But we did things on our own and I'm proud of that."
Thanks to Joe Muggs at The Guardian whose reporting provided the original basis for this story. 
The Jam Addict team is a revolving door of writers who care about music, its effects on culture, and giving aspiring artists tools and knowledge to be inspired and keep on creating.
If you have any questions or concerns or just want to drop us a line, don't hesitate to contact us! We always appreciate the feedback.