Sanders' exuberant church has open doors
Posted by 

Mike Schumacher
Despite being a man of few words, the spiritual jazz legend's vast, exuberant performance said volumes.
Jazz artist Albert Ayler once said, "Coltrane was the father; Pharoah was the son; and I was the Holy Ghost. Pharoah Sanders and Albert Ayler accompanied John Coltrane on a number of significant recordings. Like Coltrane, Sanders was able to cut both ways, rolling out a spiritual rhythm that fell like waves on the sea or splicing the air itself into a geometry of fire and aether. In his music, he leaned toward a spiritualism that was widely multiracial, but he was also capable of saxophone exaltations that were fierce. While he chose not to, his music spoke for him and is the foundation of any spiritual jazz album. Sanders was "one of the holy monsters of American music," according to Ben Ratliff's 1999 article in the New York Times. A vital link to the influential and now-legendary New York jazz scene of the 1960s and 1970s is broken with the demise of the son, who was the last member of Coltrane's final band.
Farrell Sanders, who was born in Little Rock, Arkansas, started off by playing a clarinet that he had paid $17 for from a recently dead member of his church's congregation. He temporarily resided in Oakland, California, before hitchhiking aimlessly to New York in 1962. He basically came destitute and turned to blood donation to get money to buy food. He sometimes slept in movie theaters during the day while doing odd jobs, eating cheap pizza, and listening to jazz being performed in the clubs from the outside. In a review of reissues in The Wire 343, music critic Philip Clark points out that he was not the only one experiencing this deprivation: "Learning the vicissitudes of the jazz life, you're reminded of how thoroughly these musicians were marginalized, both socially and culturally." He was characterized as still appearing like just another musician trying to earn a livelihood in a 2020 New Yorker interview, which speaks something about the lack of support for monumental cultural icons of American jazz like Sanders.
Become a 'Drummer 4/4 Life' with our exclusive JA t-shirt!
Show your dedication to rhythm with our unique 'Drummer 4/4 Life' t-shirt. Proudly display a music staff with the 4/4 time signature, the heart of most popular music beats. This piece of Jam Addict attire not only makes a bold statement about your passion for drumming, but it also lets you be a part of the JA community, a team dedicated to fostering musicians for years.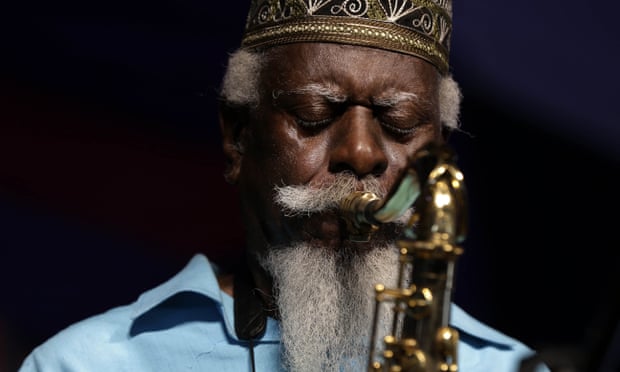 A crucial connection … Pharoah Sanders. Photograph: Gerald Herbert/AP
He traveled across New York with his trumpet in its timber box. When he could, he joined sessions. He also periodically put together ensembles from musicians he encountered while wandering the city. It's common knowledge that Farrell was given the new name Pharoah by Sun Ra, but the reality is more mundane: Sanders selected the name on a whim when he signed union paperwork. There are recordings of his sessions with the Arkestra from December 1964, proving that he did get to know them and play with them. He also collaborated with Paul Bley and Don Cherry around this period, and he made his first album as a bandleader for Bernard Stollman's ESP-Disk label. In that short encounter, Sanders was remembered by Stollman as being brusque: he entered, recorded an album, and then quietly departed.
Sanders joined Coltrane's band in September 1965, while he was still rather inexperienced (Coltrane was 14 years older than him). On now-iconic jazz albums like Ascension, Meditations, and Om, he performed alongside him. After Coltrane passed away two years later, Sanders collaborated with her on many of her great albums, including Journey in Satchidananda and Ptah, The El Daoud.
As a bandleader, Sanders produced almost 40 albums while continuing to perform John Coltrane compositions and forging his own way. The foundation of his style may be found in the thick stratum of LPs he produced for Impulse in the late 1960s and early 1970s, releasing two or three albums a year against the label's requests for certain songs and timings. Sanders just played, as he often said in interviews. As an example, consider the crucial Karma from 1969, which consists of two lengthy, vast works and whose inspirations and meaning are evident in every detail: Pharoah is shown on the cover of the album in a sitting yoga position, illuminated by a soft aura, with dancing, psychedelic text in pink and orange. His saxophone emerges like robes on royal carpets in the opening seconds of side one, pursued by a beautiful forest of shakers, bells, and flutes, and followed by vocal exaltations.
Pharoah Sanders' collaboration with Sun Ra – video
His music has been compared to "midnight riptides" for its depth, fluidity, and intense intensity and aim. His song has a strong emotional content; it is passionately religious and naturally delivered. For instance, the vocals in Love Will Find a Way serve as a lyrical theme that propels the playing itself via emotion rather than form.
His singing, though, was a sharp contrast to the way he spoke; throughout the years, journalists have lamented his terseness or seeming lack of enthusiasm in responding to inquiries. Most of the time, he talked in painfully vague language. Even though most of his interviews are from the last 20 years, when he was already a living legend, he is honest and unaffected in the few brief responses he does provide. In one, he discusses his lingering concerns about his readiness to perform alongside John Coltrane and if Alice Coltrane would have approved of his playing style.
He admits that he wasn't a talker, but he nonetheless gives his listeners a feeling of what they may call grandeur and often mentions his desire to produce "beautiful" sounds. "I just play one note; maybe it represents love. Another note may then indicate something different. Keep going until it becomes something, maybe something lovely, he advised the New Yorker.
Sanders' music has an unmistakable clarity; it is straightforward in its quest for beauty, and it is this desire that may attach listeners to Sanders' early 1970s work more than to other avant-garde spiritual jazz musicians that came out of his environment. He arouses a vague, open-armed spiritualism. The intensity created by Phraoah's vast flights has the capacity to conjure the lighting of pictorial forms, like weather over landscapes, even when his tone is softened, like on Thembi's Astral Traveling or even the modernist looping of the perfectly poised moment of Harvest Time. He would tack upwards with a burning intensity, as seen in the shouting determination with which he returns to the fight on Black Unity, alongside Marvin Peterson's trumpet. His aggressive and transcendent playing style balanced his melodic melodies.
Pharoah Sanders, Floating Points and the London Symphony Orchestra's Promises – video
Though unlike Cherry's utopian communality, Sanders' music included parallels to a multicultural spiritualism. "I look at all religions and just put them all into one," he remarked. Sanders' music also had connections to this spiritualism. Regular allusions to Egypt, karma, and tawhid were made. He played instruments more often seen in folk and traditional music, including thumb pianos, wooden flutes, and African percussion like the balafon and congas. He also donned robes. (His collaboration with gnawa musician Maleem Mahmoud Ghania, an exhilarating hybrid created by the talented Bill Laswell, is a crucial stop in his repertoire.)
Sanders' 2021 comeback with Floating Points (also known as Sam Shepherd) and the London Symphony Orchestra was well greeted after a period of around two decades without a recording as a conductor. It combined his playing with ambient electronics and orchestra in a single-track, nine-movement work that became his most well-known record outside of the jazz community. Both general and specialized jazz critics praised the album as "breathtaking," "hauntingly beautiful," and "enchanting." Promises was crucial in that it reaffirmed Pharoah's standing as a living great and introduced his music to a new audience. He used to perform live with Shepherd, where the audience was both astounded and concerned by his presence and frailty.
Sanders' spiritual jazz was like a cathedral with open doors, and it was his sound's radiant, open-armed welcome that won over a wide audience and made him the son. He revered a greater spiritual force that could be accessible via the vibrations of music, and even though he was expressing everything with his playing, he never exactly explicitly described the nature of that power or spirituality. Sanders' early sessions were described by Clark as "his group are playing music, but he's found the thing itself."
Thanks to Jennifer Lucy Allan at The Guardian whose reporting provided the original basis for this story.
The Jam Addict team is a revolving door of writers who care about music, its effects on culture, and giving aspiring artists tools and knowledge to be inspired and keep on creating.
If you have any questions or concerns or just want to drop us a line, don't hesitate to contact us! We always appreciate the feedback.