The Byrds discuss music and clothes
Posted by 

Mike Schumacher
The group's surviving members reflect on the fashion trends they established as a new book examines the band's impact on the 1960s and beyond.
'We didn't like the conformity' … The Byrds in 1966 Photograph: Norman Griner
Although there are numerous factors bands consider when selecting their members, you'd like to assume that playing talent would rank among the top ones. It didn't exactly turn out that way when the Byrds, one of rock's most influential bands, were deciding on their line-up in the summer of 1964. They simply needed a drummer since they already had four really competent players. When they saw Michael Clarke passing by the Troubadour club in Los Angeles, fate intervened. Roger McGuinn recounted the incident the other day with a chuckle, "We didn't care whether he could play drums or not." He had the same appearance as two Rolling Stones combined.
Clarke, in particular, had the thick bangs of Brian Jones, the full lips of Mick Jagger, and the lean body of every great rocker of the era. The sheer fact that one of popular music's most influential and well-respected bands would value elements like those so highly is convincing evidence of the influence that appearance, style, and fashion have on the industry. While it may seem clear in the world of modern pop, in the rock'n'roll of the 1960s, the maxim "it's all about the music, man," such components were far less often recognized.
But when you're in a band, you want to build a mystique, as McGuinn made plain. Visual appeal has always been crucial to it, he said.
The Byrds 1964–1967 is a stunning new photo-driven book that argues that the Byrds had almost as much influence on fashion at that time as they did on music. By electrifying Dylan songs like Mr. Tambourine Man and Pete Seeger's Turn! Turn! Turn!, the Byrds helped to pioneer folk-rock, helped to develop psychedelic and raga rock with songs like Eight Miles High and So You Wanna Be a Rock'n'Roll Star, and helped establish country rock with the seminal Sweetheart of the Rodeo album. The book includes many amusing insights about the evolution of those sounds, as well as the band's tense interpersonal relationships along the road, thanks to in-depth interviews with the three surviving original members – McGuinn, Chris Hillman, and David Crosby. But the images portray a different narrative, one that is fueled by sartorial flare, playfulness, and the influence of masculine beauty. The Byrds were a good-looking band, Tom Petty once said, Hillman remembered with a chuckle. "They had great hair and clothes, just like he said, and we did!"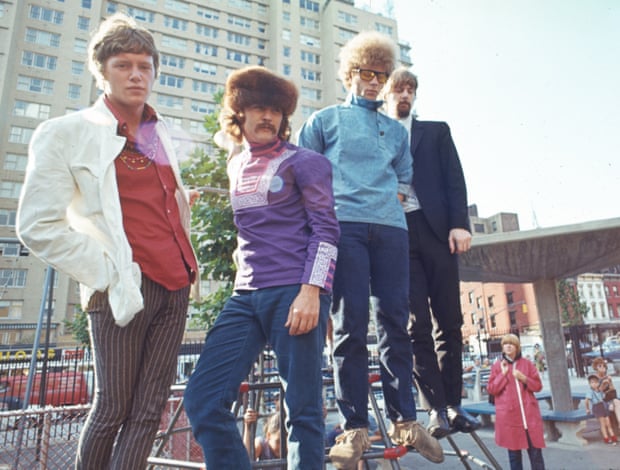 David Crosby matched an ushanka-style hat with a Russian shirt in a photoshoot. Photograph: Sonyscan/Sony Music Archive
Teen publications in the middle of the 1960s showcased them in "groovy" picture spreads with words that made readers drool. According to Holly George-Warren, co-author of the book Rock in Fashion with fashion designer John Varvatos, "In those days, before we were constantly bombarded by visual images through social media, it took the presence of a band like the Byrds in the teenybopper magazines and on American TV to present a new gateway for dressing." The Beatles and the Stones had introduced Anglo cool to America, but it was The Byrds that brought it across.
In actuality, the Byrds used the early Fab Four as their model while deciding on their debut clothing. In keeping with that, they went for a uniform appearance, dressing the members in slim, black suits with velvet trim and tab collar shirts. The members didn't like the appearance, however, and it didn't survive very long. According to Hillman, "We didn't like the conformity."
It's understandable why they were relieved when their outfits were taken from a bar where they were performing one night. Hillman said that the offenders belonged to Little Richard's band. Hillman reported that when Roger McGuinn informed John Lennon about it, Lennon remarked, "I wish they'd have stolen our suits!"
In actuality, the Byrds' second style was the Beatles' outfits. The original members of the Jet Set wore spotless white shirts in their early years while they were still known by that name, giving them the appearance of choir boys. They had that appearance, and we had been working with folk bands, McGuinn said. We adopted the academic approach that was pioneered by bands like the Kingston Trio. We gradually became more free-spirited.
"They started to adopt very individual looks," George-Warren said. "What you saw in that period was an early signpost of what would later become the 'counter-cultural look.'"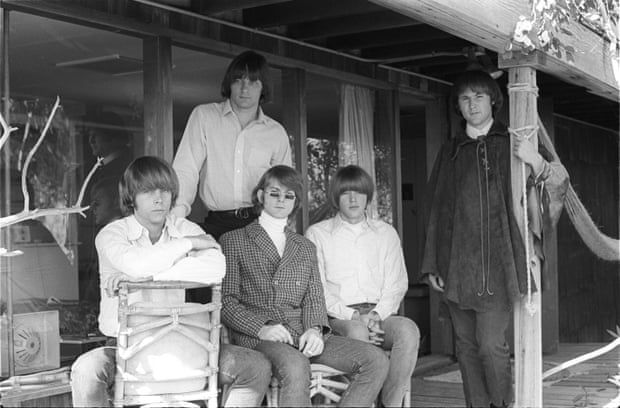 Byrds photoshoot at Chris Hillman's home in 1965. Photograph: Jim Dickson Archive, courtesy of Henry Diltz Photography
McGuinn's usage of small, rectangle-shaped wire-rimmed spectacles, an item easily acquired for cheap at any pharmacy shop, was one of the most prominent and copied early fashion decisions. By dressing them up with stylish blue lenses, McGuinn gave them a distinctive appearance. The Lovin' Spoonful vocalist John Sebastian, whom McGuinn had met while he was active in the Greenwich Village folk scene, prompted him to wear a pair of spherical cobalt blue spectacles. Wow, those are some fantastic colours, I said. McGuinn thought back. "He advised me to put them on, stare up at the streetlights, and turn my head. It seems to be quite cool! I then put on the blue lenses. I wasn't planning to wear them often, but an English TV producer told me that "everyone needs a gimmick" after seeing them.
"A pop star hadn't had that kind of effect on glasses since Buddy Holly and Roy Orbison," George-Warren said. "Later, we got to see John Lennon with his granny glasses."
Initially at Ciro's, a bar on the Sunset Strip where the Byrds first developed a fanbase and a scene, the book includes pictures of lads in the crowd wearing the spectacles. The club, which had booths reminiscent of old Las Vegas, was well-known in the 1940s when people came to see performers like Tony Bennett and Sinatra. It had hit hard times by the 1960s. By reserving the Byrds, the bookers gave it new life. Man, we packed that place, David Crosby stated. There was a block-long wait to enter, and it was packed with people. Everyone took note of it, which was incredibly helpful to us.
The Byrds gained further attention by hiring several of their female friends to perform as go-go dancers at Ciro's, a feature they eventually took with them on tour. The band members maintained their calm approach throughout. The Byrds were distant as performers, according to Hillman. "We weren't a dancing, smiling show band," the band member said.
Hillman had a tough time maintaining the same stylish appearance. He laboriously straightened his naturally wavy hair in an effort to blend in with the other males. He said, "I rinsed it out and used a setting gel. "I would put in all that effort, and the moment we arrived in the humid Midwest in the summer, my hair would 'boing' into springs," she said.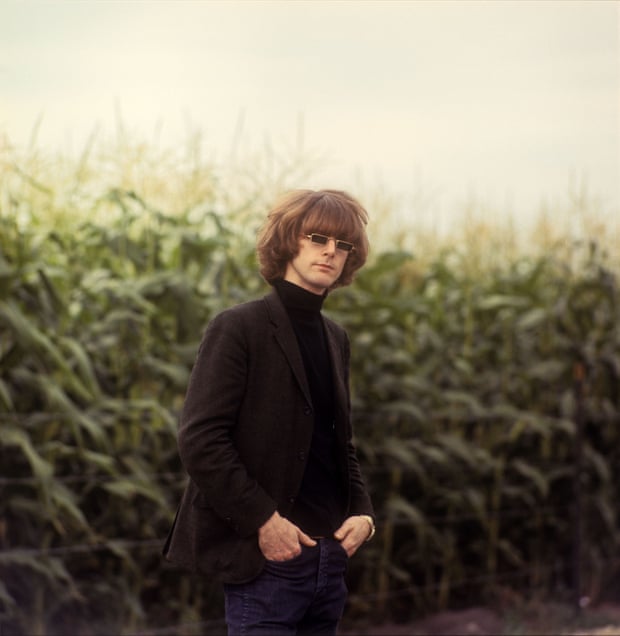 Roger McGuinn in 1965. Photograph: BMG
Hillman ultimately let his hair run wild after being inspired by Dylan's confident curls. This went hand in hand with certain members' decision to don more unconventional attire. As rapidly as their music evolved, so did their appearance. It's understandable why McGuinn compared the Byrds to "an electronic magazine" created to reflect a constantly shifting environment. With an emphasis on hats, Crosby debuted the band's most bizarre fashions. He made a statement by altering a traditional Borsalino fedora at the beginning of 1967. He said, "I noticed the Borsalino at the store and I loved the color. I chose to crush the top of it to make it resemble a cowboy hat, and it was a great decision.
He wore an ushanka-style hat six months later to go with the Russian clothing he had picked for a picture session. He wore a flowing leather cloak, which was one of his most dramatic gestures. Crosby said, "If you want to see something truly ridiculous, try riding a motorbike with a cape on.
"David looked like some kind of hippie superhero riding through the Hollywood Hills," McGuinn said.
McGuinn himself preferred formal ties and coats but flashed colorful hues sometimes. "I went to prep school where we had to wear a tie every day," he said. So to me, that expression was natural.
By growing a goatee, which was popular among beatniks in the 1950s but had fallen out of style by the middle of the 1960s until McGuinn helped bring it back into style, McGuinn made still another statement. The glance was unintentional. One day, McGuinn stated, "I went bam and landed smack on my lip" while using a razor scooter. The next week, we had a TV appearance, so I grew a beard to cover the bruise.
The album covers for The Byrds' albums also had a significant visual influence. The photograph for its release in 1965 was taken by photographer Barry Feinstein using a fisheye lens. It was one of the first applications of a method that eventually turned into a psychedelic cliché.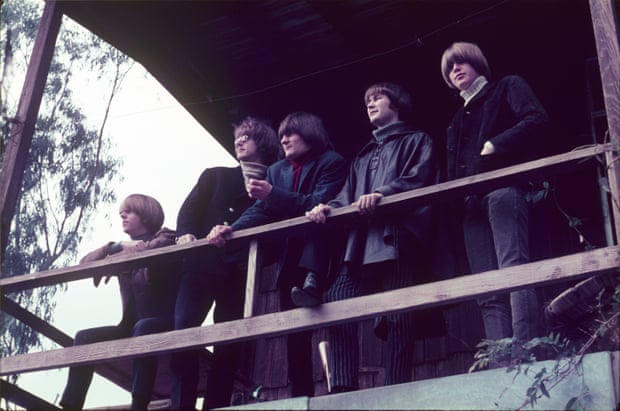 Byrds photoshoot at Chris Hillman's home in 1965. Photograph: Jim Dickson Archive, courtesy of Henry Diltz Photography
Gene Clark, a talented vocalist who was also the band's most active lyricist in its early years, was the member of the group that the camera adored the best. According to a photo of the men wearing swimsuits, Clark was Hollywood-handsome and completely shredded. He was polished because he was raised on a farm in Kansas, according to Hillman. "The person never visited a gym, yet he seemed to have done so. Every young girl in the house would turn her attention to him the moment the curtain opened.
Unfortunately, Clark had mental health problems and grew to detest flying, which combined to force him to leave the band twice. He just "went off the deep end," according to McGuinn. (Clark and Michael Clarke both passed away at age 47 from alcohol-related problems.)
Even though the group continually shedding members in its early years, its music nevertheless excelled. The Notorious Byrd Brothers, the band's 1968 record that was completed after Crosby and Clark's deaths, was a creative accomplishment that helped them go in a more rural direction both musically and aesthetically. The musicians' sense of style persisted beyond the three years the book covers. The Flying Burrito Brothers, which Hillman and another ex-Byrd, Gram Parsons, helped create in 1969, were the first rock band to wear "Nudie suits," a look made popular by country musicians like Hank Williams and Porter Wagoner. These clothes, designed by Nudie Cohn, have intricate beadwork and thick embroidery with the buyer's choice of motif. Parsons wore clothing with marijuana leaves. Giant peacocks might be seen at Hillman's.
Hillman's choice of pictures brought attention to one of the most ground-breaking features of 1960s rock fashion. Similar to peacocks in the aviary world, guys were emphasized as sex objects in rock culture as opposed to girls in the 1960s, a move that was just as subversive as the music itself. George-Warren stated, "It was for the gaze of women – and men, though they would never like to acknowledge it. They claimed that appearances don't matter. That was always a load of crap.
The period also witnessed shifts in the social class of those participating in rock, in addition to the expansion of the sexual lens. In the 1960s, Danny Fields, who later discovered Iggy Pop and managed the Ramones, produced the adolescent magazine Datebook. He said that until bands like the Byrds, rock and roll performers had never emerged from the upper middle class. They either sang doo-wop like working-class Italian youngsters in the northeast or like Elvis from the south, or they were black. One of the first bands that white kids from middle class could genuinely identify to was The Byrds. Because they were the first hip American band to create beautiful music and achieve success, we idolized them. They were also hot.
Despite the Byrds' artistic sophistication and musical breadth, McGuinn claimed he found reading the book to be "a little depressing because the whole thing fell apart in the end."
Hillman, though, sees the brighter side. The group and how diverse we were may now be seen in a fresh light by those who weren't even there at the time, he added. "We were creative in all kinds of ways."
The Byrds 1964-67 is out now
Thanks to Jim Farber at The Guardian  whose reporting provided the original basis for this story. 
The Jam Addict team is a revolving door of writers who care about music, its effects on culture, and giving aspiring artists tools and knowledge to be inspired and keep on creating.
If you have any questions or concerns or just want to drop us a line, don't hesitate to contact us! We always appreciate the feedback.